Football for Global Influence
I have a big question for all the football fans reading this article. What do Schalke 04, Red Star Belgrade, and Zenit have in common? I believe it's difficult to answer this question so let me give you a hint: it's something printed on their jerseys. Still didn't get it? It's the 'Gazprom' logo on their jerseys. From being on the jerseys of major football teams from various countries in Europe, it also features on the sidelines and advertisements during games.
The logo belongs to Gazprom, a Russian natural gas company. Logo sponsorships are normal in football. Teams make money offering jersey spaces to sponsors selling things like credit cards, cars and cell phones but Gazprom isn't like most sponsors, i.e. private companies with products that football fans can buy. Instead, it's a company owned by the Russian government that makes money selling natural gas to foreign countries. Yet, it's everywhere in European football. So, if football fans can't buy what they are selling, why is Gazprom spending millions to sponsor football games? The answer is part of a larger story that's changing the sport of football.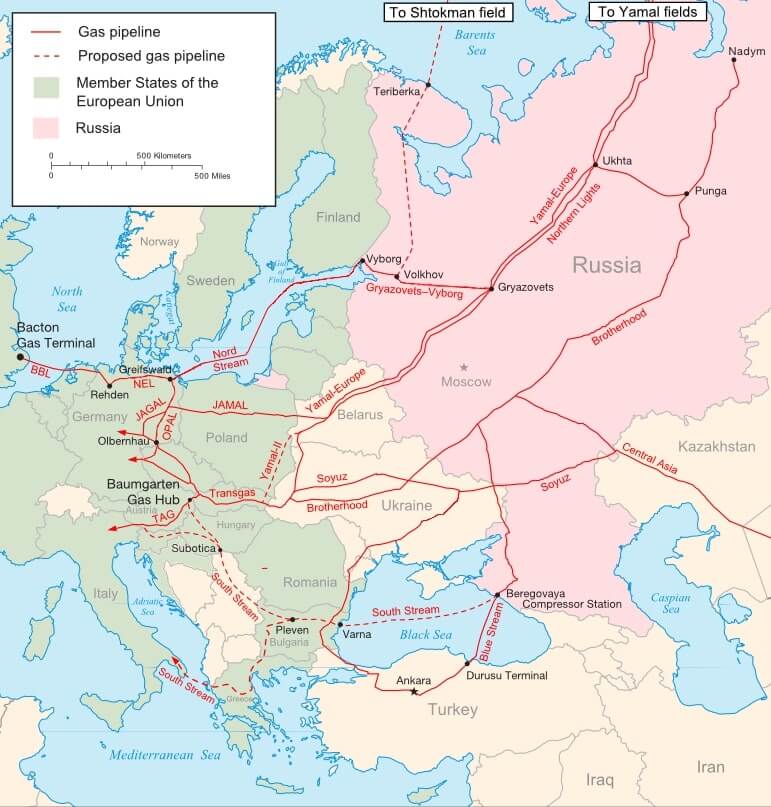 Russia has the world's largest natural gas reserves and most of them are located in the Arctic gas fields controlled by Gazprom. The company is led by Alexey Miller, a close ally of Russian President Vladimir Putin. Since 2005, the Russian government has owned a majority stake in Gazprom. This means that the company profits are under Putin's control, and gas sellers, along with oil, account for around 50% of Russia's annual budget. Eastern European countries like Finland, Estonia, Lithuania, Poland, Slovakia depend on Russian oil for 75-100% of their natural gas needs.
As we move further towards the West, the countries' dependence begins to fall. At the end of the 20th century, Germany represented the biggest opportunity for Gazprom. German Chancellor Gerhard Schroeder had announced plans to phase out coal and nuclear power which meant Germany needed more natural gas to maintain their energy supply. Gazprom wanted to give it to them but there was a problem. To get to Germany, Russia's gas needed to pass through pipelines crossing other countries that charged Gazprom transport fees. And most of them went through Ukraine, a country that has complicated political relations with Russia. Today, Ukraine still charges upwards of $3 billion each year to pump gas to Europe.
So, starting back in 2005, Russia began working on a strategy to bypass Ukraine and ship their gas directly to Western Europe through the Nord Stream pipeline, a route through the Baltic sea straight to Northern Germany. In late 2005, Gazprom was in the final stages of financing the project and Germany's Chancellor was preparing for an election. During his time in the office, Gerhard Schroeder had become friendly with Putin, and critics in Germany were increasingly concerned about the Russian leader's growing influence. Just a few weeks before the election, Schroeder met with Putin signing an agreement officially approving the pipeline. Two months later, he lost his re-election. However, by March, he found a new job overseeing Gazprom's pipeline to Germany. It also came out that, before leaving office Schroeder had approved a secret Gazprom loan that provided over a billion euros to finance the project. This led to Gazprom's big project being called a "story of scandal, corruption, and the creeping influence of Russia in Germany".
However in 2006 the story changed, Gazprom signed a deal to sponsor the German soccer team FC Schalke 04. At the time Schalke's finances were worrying the team officials and Gazprom's sponsorship provided money that the team desperately needed. At a press conference announcing the deal, a Gazprom chairman stated that Schalke's connections with the German energy sector were the reason behind their decision to become its sponsors. Schalke played in Gelsenkirchen, a town in Germany's Ruhr Valley, where much of the country's energy industry is based. It's also near the town of Rehden, a hub for pipelines to the rest of Europe and home to western Europe's largest natural gas storage facilities. Schalke wasn't Gazprom's first football deal. The year before, they had bought a controlling stake in a team on the other end of the Nord Stream route: the Russian team Zenit St Petersburg. Gazprom's investment made Zenit a major force in football. Two years after taking control, Zenit won their first-ever league championship. They've been able to sign expensive foreign stars like Axel Wetzel and Hulk.
In 2006, as Gazprom logos were revealed around Schalke's stadium, German headlines were hailing the Russian gas giant for pumping millions into the German team and hence, creating a positive image in German minds for the company. And over the next few years, the Gazprom logo would become a team symbol displayed at Schalke's games and printed on official merchandise. Schalke also won a championship in 2011. By then, Nord Stream had been completed and it had started pumping gas to Germany. There was also another struggling team whose jerseys started featuring Gazprom's logo, the Serbian team: Red Star Belgrade. Red Star was about $25 million in debt when Gazprom signed to become their jersey sponsor and again, there was also another pipeline: the south stream would have bypassed Ukraine by going directly through Serbia to Southern Europe. That project closed in 2014, but Gazprom further increased its access to Europe by building Nord Stream 2, a second pipeline doubling the amount of gas flowing from Russia to Germany.
Over the years in addition to its pipeline empire, Gazprom has also expanded its influence over global football to include energy partnership with Chelsea football club, UEFA Champions League, and the sport's most famous tournament: the FIFA World Cup. These sponsorships have made Gazprom's logo familiar to not only the fans in Europe but across the world. It also did something which boosted the Russian economy. Russia became the world's largest exporter of natural gas and provided for almost half of all the natural gas supply to Europe becoming a major player in the energy field in Europe. This created a reliance of other countries on Russia for the supply of natural gas, power and energy generation. The strategy adopted by Russia turned out to be a 'game-changer' and as of 2019, Russia supplied 199 billion cubic meters of natural gas to Europe. The oil-and-gas sector accounted for 16% of GDP, 52% of federal budget revenues, and over 70% of total exports.
Now, Russia is the skipper when it comes to energy supply and generation in Europe and other countries are learning from their example. As the example of Gazprom shows, having prominent soccer sponsorship offers a way around bad publicity by winning approval on the field. Many companies such as Qatar Airways, Etihad Airways and Emirates Airlines have started sponsoring major teams in Europe such as AS Roma, Manchester City and AC Milan respectively. As an avid football supporter, I feel like it's a big opportunity: their money helps teams win major championships and tournaments, but it is changing the sport itself. Now that it has become common to see a German team sponsored by Russia's gas company facing off against an Italian team sponsored by Dubai's state-owned airline, it is starting to seem like the field is hosting two competitions at once: a match between the two teams and larger play for a foreign influence that continues long after the final whistle.
Subscribe to The Pangean
Get the latest posts delivered right to your inbox